Edit
General Rules:
You must be logged in to edit your records and you must have permission to edit those records.
Only contributors (aka Users), submitters and group coordinators have permission to edit their objects in Morphbank.
The presence of an means you have permission to delete the object.
Published records may not be edited, although there are exceptions. If a contributor or submitter finds a typo, the record may be edited.
If a contributor finds a problem with a published record, they may try to edit as well as contact mbadmin at scs dot fsu dot edu for help.
The (Edit icon) appears in each My Manager Tab, next to each object's thumbnail.
Click the icon to open the Edit screen for a particular object in a new tab.
This Edit manual page contains general instructions for how to edit most Morphbank Objects including:
Image
Specimen
View
Locality
Taxa
Annotation
Publication
Collection
Knowing where to edit:
With the release of the My Manager user-interface, a user (a Morphbank Contributor) can edit their objects from any of the Tabs in My Manager.
The Submitter may also edit the objects they have submitted for a Morphbank Contributor.
Every object is associated with a Morphbank Group. Anyone in a particular group, with at least a lead scientist role, may also Edit objects associated with that group.
If a Morphbank Contributor opens a single show using the for any of their objects (published or not), the icon is available inside the single show.

For an unpublished Collection a user has created, they may Edit this Collection by finding and opening it in My Manager Collections from the icon.
From My Manager > Annotations, a user finds their unpublished Annotations and clicks on the icon to open the Edit Annotation Screen. Go to

Edit Annotations

for details.
Icons commonly found in Edit:

Browse: To modify the record you must select from already existing records

Add a record: You can add a new record by clicking on the plus
Edit using My Manager:
Every object uploaded by a given user can be edited from the appropriate tab in My Manager. Once in My Manager, a user selects the tab (Images, Views, Localities, Specimens, Publications, Collections, Annotations) of choice and then searches (and/or Limits) to find the object/s to be edited. Then, use the
icon to open the Edit screen
in a new tab.
At the moment, you may edit your Locality, Specimen, View, Image, Publication, Annotation, & Collection records in several different ways,
via the icon found at header menu > browse > choose tab
via the icon found at header menu > tools > my manager > choose tab
or via the icon in any single show.
For example: if you know a specific location record is incorrect, go to Browse > Locality, search for that record and click the edit icon. This icon will take you to the Edit Locality screen (in a new tab) where you can modify information about that specific location record.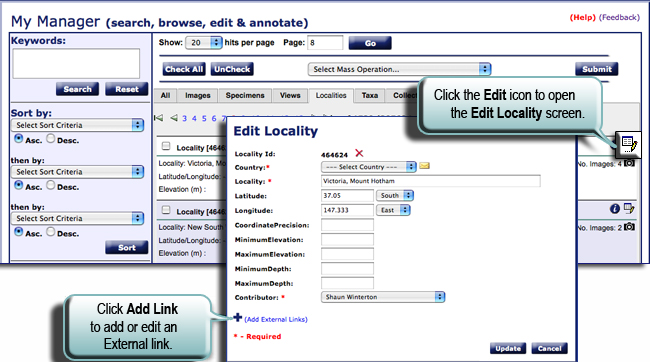 Also you can add or edit External Links from this window. Once you have finished changing the form click the

button. A small window will popup that requires a response. This window tells you how many records will be affected by the change you are about to make. Not to worry, you will not be able to change records for which you do not have permission. Selecting yes will send the user back to the Edit Locality screen where a confirmation message will explain that the update has been made. Selecting no or cancel will send you back to the Edit Locality screen without making any changes.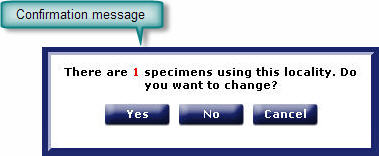 Edit Hints and Common Questions:
Set a standard image for a Specimen or View:
From the Specimen Edit and View Edit you can set a standard image. The standard image is the image that best represents your concept of the View or Specimen. The default image is the first image you entered and if another image is desired as the standard display image, click on the
and choose it from the list of images.

Delete:
An entire image record cannot be deleted, but the image can be replaced if an incorrect image was uploaded.
You can replace an image if an incorrect image is uploaded.
Records created after upload can be deleted. In other words, Annoations and Collections made in Morphbank can be deleted (if they are not published).
Please contact mbadmin at scs dot fsu dot edu if you have any questions about deleting objects. You will see the if you have delete privileges for a given object.
Adding and Editing Links:
Links can be added to Specimen, Location and Image records. External Links and External Identifiers can be added to any object contributed. Click on the blue text Add Links to open this feature. These links will appear on the single show for that record. Links also can be added to other objects in Morphbank!

Edit Images:

From Edit Image users can:
change to a different Specimen Id or View Id
add a completely new Specimen record or View to associate with the selected image.
and if the image is unpublished, a user may replace the image.
Users cannot currently edit the existing Specimen record, View, or Locality data from the Edit Image screen page.

Go directly to My Manager or Browse, find the Specimen or View to be edited, click the icon next to the Specimen or View to change details of the data for those objects.
Edit Taxon Names
Edit Annotations
Edit Collections